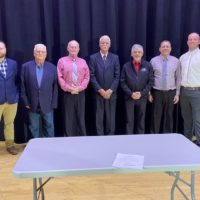 11/20/2023—Magistrates approved a request from the Dispatch Center at the regular meeting of Breckinridge County Fiscal Court Monday morning.  The Chief TAC Officer will get a $1.00 per hour pay increase, and the Assistant Chief will get a $.50 per hour raise.  The department will also add a Training Officer.  Effective December 1, 2023, all part-time dispatch employees will work a definite schedule.
In other business, magistrates approved a request to provide $2,500 to the Adult Education Program.  Sydney Bruner said the money will be used for GED testing.  She said she currently has 43 students enrolled in the program.
Sheriff Billy Richardson asked the Court to consider hiring two additional deputies.  He said he was willing to discuss his budget with magistrates.  No action was taken.  Richardson said his department received 868 calls for service in October.
The Court approved the second reading of an ordinance amending the current budget by $149,590.22.  The budget reflects a transportation grant of $80,000 for the Road Department and a State Grant of $69,590.22 for the Detention Center.
Magistrates discussed changes to the Personnel Policy.  The first reading of the ordinance will be heard at the Court's December meeting.
Magistrates awarded the bid for Radio Communication upgrades to Betner Communications.  The bid was for $298,706.20, and was the only bid submitted.
Magistrates accepted the County Clerk Audit for the Fiscal Year ending December 31, 2022.
A 2006 Ford Explorer used by the Animal Shelter was declared as surplus property.
The Court approved two Memorandums of Agreement.  The first was for a $69,590.22 Grant for the Detention Center for arraignment equipment.  The second was for a $1212.00 Spay and Neuter Grant for the Animal Shelter.
Magistrates approved a motion to undercoat two Road Department trucks for $800.00 each.
In personnel matters, The Court approved hiring Isaac Drane as a Road Department mechanic and Willard James Crabb as a Road Department truck driver.  Jada S. Nash was hired as a part-time employee at the Animal Shelter.
The current inmate population at the Detention Center is 189.
At the beginning of the meeting, Brownie Ginter, representing the Bentwood Homeowners Association, addressed the Court regarding damage done during the installation of water lines at the subdivision.  He said JC Carr Construction was hired by Kentucky Land Company to do the work.  In the process they tore up the road and removed several adjoining trees.  The work was done prior to receiving a water line license agreement.  Ginter requested that the damage be repaired as soon as possible.  The County will have the Road Department inspect the road.
In a related matter, a water line license agreement was approved for three residents in the area.