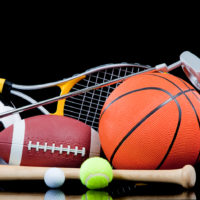 MEMPHIS, Tenn. (AP) — Jaren Jackson Jr., Desmond Bane and Tyus Jones each scored 21 points and the Memphis Grizzlies routed the Golden State Warriors 134-95 on Wednesday night to avoid elimination and force a sixth game in the Western Conference semifinal. Dillon Brooks added 12 points for Memphis.
BOSTON (AP) — The Milwaukee Bucks have taken a three-games-to-two lead in the NBA's Eastern Conference semifinals by erasing a 14-point deficit in the fourth quarter of Game 5 to take a 110-107 win in Boston. Giannis Antetokounmpo poured in 40 points and had 11 rebounds for the Bucks.
DENVER (AP) — Denver Nuggets center Nikola Jokic has won the NBA's Most Valuable Player award for a second consecutive season, making four straight MVPs for foreign-born players.
Jokic averaged 27.1 points on 58% shooting while providing 13.8 rebounds and 7.9 assists per game.
UNDATED (AP) — Christian Yelich hit for a record-tying third cycle — all of them against Cincinnati — but the Brewers' rally fell short in the ninth inning in a 14-11 loss to the Reds. Tyler Stephenson drove in four runs with a pair of doubles and Colin Moran hit a three-run homer for Cincinnati.
BIRMINGHAM, Ala. (AP) — Alabama football coach Nick Saban denies that anybody from his football program had contact with receiver Tyler Harrell before the former Louisville player entered the transfer portal, which would have violated NCAA rules. Saban responded to a suggestion from Louisville coach Scott Satterfield that Alabama had tampered with Harrell, who has since announced his transfer to the Crimson Tide.
UNDATED (05/12/22) – The BCHS Fighting Tiger Baseball team plays their final regular season game today with a game at Grayson County scheduled for 5:30. The Tiger tennis teams play their final regular season match at home against Edmonson County at 4:30 this afternoon.