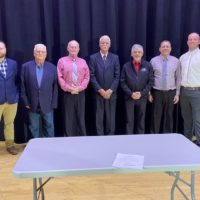 9/18/2023—Magistrates spent over an hour discussing expenditure of nearly $2 million in available American Rescue Plan funds at the regular meeting of Fiscal Court Monday morning.  Some of the proposed uses were expanding broadband service; blacktopping additional roads; improving radio communication for emergency responders; road department equipment; and providing each magistrate a discretionary fund for use in their district.  No action was taken.
In other business, magistrates approved 2023 tax rates for the Breckinridge County Cooperative Extension Service.  The real property tax rate is 5.4 cents per $100 valuation.  The personal property tax rate is 11.37 cents, and the motor vehicle rate is 2.5 cents.
The real property tax rate of 1 cent per $100 valuation for the Soil Conservation District was approved.  In a related matter, the annual report of the Soil Conservation District for the fiscal year ending June 30, 2023, was approved.
An amended interlocal agreement regarding the recycling center between Breckinridge, Meade and Hancock County was approved.
Magistrates accepted the Road Viewing Committee report for Legacy Lane and White Tail Lane.  The Court approved a motion to have two members of the the Road Viewing Committee inspect 0.13 miles of Rupert Askins Lane.
Before approving the monthly claims, magistrates approved a motion to exclude payment of $6,000 to the McDaniels Fire Department.  Magistrate Gary Greenwell said he saw no improvements to the building at the McDaniels Community Park.  The motion passed on a 6-1 vote, with 6th District Magistrate Brandon Henning voting "no".
Magistrates approved a new budget line item for the opioid settlement.
Third District Magistrate Greenwell asked for a more detailed expense report from the Animal Shelter.
The current inmate population at the Detention Center is 187.
The Sheriff's Department received 1,008 calls in August.
Suzanne Driscoll addressed the Court.  She suggested several ways that she wanted to see the County grow and improve.
Magistrates went into executive session to discuss pending litigation but took no action.
Before adjourning, Magistrate Greenwell asked that all County employees work 40 hours per week.  Currently, some employees work 35 hours per week.  No action was taken, and the matter will be placed on the agenda for next month's meeting.