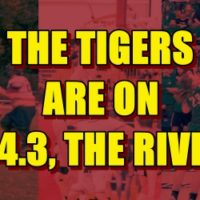 BARDSTOWN (09/15/23) – The BCHS Fighting Tiger Football team opens district play tonight at Nelson County. Coverage on 104.3, the River begins around 6:15 ahead of the 6:30 kickoff.
BARDSTOWN (09/15/23) – For those going to Bardstown tonight, officials at Nelson County High School say cash will not be accepted for entry. They can accept credit or debit cards with advance tickets available on-line HERE.
OWENSBORO (09/14/23) – The Lady Tiger Volleyball team lost to Apollo in three sets (25-16, 25-17, 25-14) Thursday night in Owensboro. They will play against Owensboro and Grayson County at the weekend in Leitchfield.