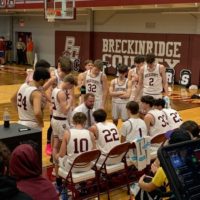 HARNED (01/19/23) – The Breckinridge County Fighting Tigers fell to Central Hardin Thursday night by the score of 70-59. Mercer Rogers scored 21 points, while Hunter Barr added 15 and Wyatt Burnett 12. The Tigers' next game is Tuesday night against the Cloverport Aces.
HARNED (01/19/23) – In the second game of the Thursday night doubleheader, the Lady Tigers held off Daviess County by the score of 58-45. Caroline Lucas led Breckinridge County with 19, Elizabeth Grimes and Kylie Carby added 11 and Kayleigh Huffines scored 10. The Lady Tigers travel to South Warren on Saturday.
RUSTON, La. (AP) – Western Kentucky failed to score in overtime in an 85-74 loss at Louisiana Tech Thursday night. The Hilltoppers were led in scoring by Jamarion Sharp, who finished with 15 points, 11 rebounds and four blocks. Dayvion McKnight added 12 points and eight assists.
CHAMPAIGN, Ill. — Trayce Jackson-Davis scored a season-high 35 points and Indiana earned its first regular-season win over Illinois since 2019 with an 80-65 victory on Thursday night. Jordan Geronimo added 13 as the Hoosiers shot a season-high 61.8% from the field.