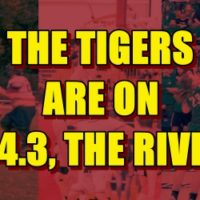 HARNED (01/19/23) – The Breckinridge County Fighting Tiger and Lady Tiger Basketball teams play a doubleheader tonight at Tiger Arena, starting with the Tigers hosting Central Hardin at 5:30, followed by the Lady Tigers hosting Daviess County. Coverage on 104.3, the River begins around 5:15 this afternoon.
LEXINGTON (01/18/23) – The Kentucky High School Athletic Association has approved a football realignment for the 2023 and 2024 seasons. Breckinridge County will drop to Class 4-A and compete in a district with Bardstown, John Hardin, Nelson County and Thomas Nelson. The Tigers spent the past five seasons in Class 5-A.
LOUISVILLE, Ky. (AP) — Greg Elliott scored 23 points and Pittsburgh handed Louisville its eighth straight loss, 75-54. El Ellis scored 19 points with five assists to lead the Cardinals. JJ Traynor added a career-high 14 points.