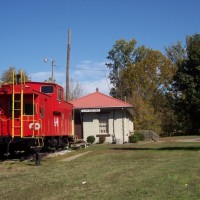 11/21/2022—The Cloverport City Council approved the second reading of an ordinance annexing property into city limits.  The ordinances annexes 47.86 acres formerly known as the Gravel Pit property.  The vote was 4-1, with Melissa Burnett voting "no".
In other business, the Council unanimously approved the first reading of an ordinance amending the city employees' handbook and wage scale.
Mayor Candy Weatherholt said the city is organizing a Main Street Program to assist with downtown revitalization.  She said City Hall will be closed Thursday and Friday for Thanksgiving.
412 city stickers have been sold to date.  The Kentucky Engineering Group will advertise for bids for the lift station rehabilitation project.  Additional Clean Water Funds will be used to extend the sewer line to the Highway 105 Boat Ramp.
The Police Department received 47 calls for service and issued eight state citations in October.
A resident told the Council that there was slow response to a fire at his property.  He also noted the fire hydrant in the area was turned off.