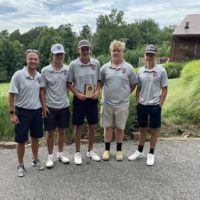 UNDATED (07/30/22) – The BCHS Fighting Tiger golf team finished third at an event in Madisonville on Saturday (07/30). Shelton Smith and Mercer Rogers had the low rounds for the Tigers at 76. The Lady Tiger golf team finished ninth in an event at Elizabethtown on Friday (07/29); Adelynn Moorman finished with a team low-round of 92.
CINCINNATI (AP) — Brandon Drury reached 20 homers for the first time in his big league career when he hit a tie breaking drive in the eighth inning to give the Cincinnati Reds a 3-2 win over the Baltimore Orioles. Cincinnati went 14-12 in July following a 6-4 homestand.
WASHINGTON (AP) — Paul DeJong homered for the second straight day as the St. Louis Cardinals blanked the Washington Nationals, 5-0 on Sunday. An All-Star in 2019, DeJong was demoted to Triple-A Memphis in May after hitting .130 with one home run in 24 games. (Click HERE for Sunday's scores.)
INDIANAPOLIS (AP) — Tyler Reddick closed the best month of his NASCAR career with a victory in overtime on the road course at Indianapolis Motor Speedway. He broke through for his first career victory on July 3 with a win at Road America in Wisconsin and announced nine days later he was leaving Richard Childress Racing in 2024 to drive for Michael Jordan's team.
DETROIT (AP) — Tony Finau ran away with the Rocket Mortgage Classic on Sunday at Detroit Golf Club to become the first PGA Tour player in three years to win consecutive regular-season events. Finau closed with a 5-under 67 for a five-shot victory and a tournament-record 26-under 262 total.
BOSTON (AP) — NBA great Bill Russell has died at age 88 following a lengthy illness. Russell anchored a Boston Celtics dynasty that won 11 titles in 13 years. Russell five-time MVP and 12-time All-Star. He spent the last two years of his Celtics career as the first Black head coach in any major U.S. sport.