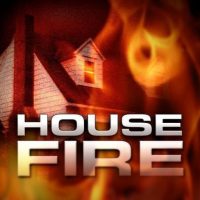 IRVINGTON —  Irvington, Custer, and Webster Fire Departments were called to a house fire at 307 East Maple Street in Irvington around 7:20 Sunday (11/21) night. As emergency responders arrived on the scene, smoke was seen inside the residence.
Firemen worked to gain control of fire in about ten minutes of their arrival.  Crews were on the scene for a couple of hours to make sure the fire was extinguished. The American Red Cross was called to assist the family. The cause of the fire remains under investigation.
Irvington Police, Breck Central EMS, Breckinridge County Animal Control, and Meade County RECC also assisted at the scene.