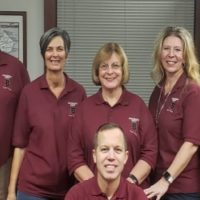 10/13/2021—The Breckinridge County Board of Education heard a report on the District's Energy Management savings presented by Andrew Survant, with CMTA Energy Solutions.  Survant said the district's energy efficiency increased by 56%.  In the first year, total monetary savings were $424,373. This is an excess savings of $156,815 above the first-year savings guarantee of $267,558.  Survant said the district was one of the most energy efficient districts in the state.
In other business, the Board approved two change orders on the BCHS renovation project.
The Board approved a Kentucky Department of Education stipend of $100 for all district employees who are fully vaccinated against COVID 19 by December 1, 2021.
Dr. Michael Broadbent, Chief Academic Officer, presented the Spring 2021 State Testing and Fall, 2021 MAP Testing reports.
The Board approved authorization for Superintendent Dr. Nick Carter to utilize up to 20 days of remote instruction.  This can be done at the classroom, grade level, group and/or school levels.  This is separate from the already granted 10 NTI days available to school districts.
Rick Taylor was appointed as the Board's representative to the school calendar committee.  Other members of the committee are: Mike Harned, Chairperson; Brandon Hayes, Kathina Bell, Missy Hopper, Wanda Stevenson, Tiffany Tabor, Becky Pollock, Angie Riley, and Meredith Dubree.  An additional member from the Chamber of Commerce will be named later.
The Board expelled three BCHS students for eighteen weeks for violation of the Student Code of Conduct.
Emergency certification was approved for Abigail Sterrett.  She will be an FMD teacher at the Middle School.
District elementary school All-Star teams were approved.
The Board approved annual school fees for the 2021/22 school year.
In personnel matters, two retirements were noted.  Harold Kirkwood, BCMS teacher and bus driver; and Jacquie Robbins, Secretary at BCHS, will both retire January 1, 2022.