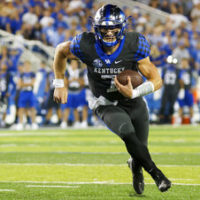 UNDATED (10/09/21) — The Breckinridge County Lady Tiger Volleyball won two matches (2-0 and 3-1) over Owensboro Apollo on Saturday. The Lady Tiger soccer team drew McLean County for the opening round of the region tournament at Ohio County on Monday night at 8.
LEXINGTON, Ky. (AP) — Will Levis threw for three touchdowns and ran for two more scores and No. 16 Kentucky dominated LSU throughout in a 42-21 blowout Saturday night. The Wildcats have their first 6-0 start since 1950, improved to 4-0 in the Southeastern Conference and earned a second consecutive win over a conference heavyweight. Their biggest challenge looms at No. 2 Georgia next week in an East Division showdown, and they'll enter with their best performance since the season opener. Levis had a huge hand in that, with the quarterback bouncing back from a lackluster stretch to account for three second-half scores alone as Kentucky pulled away to a 35-7 lead early in the fourth quarter.
LOUISVILLE, Ky. (AP) — Virginia quarterback Brennan Armstrong threw for 487 yards, capping that performance with a 1-yard touchdown pass to Grant Misch with 22 seconds left to give the Cavaliers a stunning 34-33 comeback victory over Louisville. Armstrong completed 40-of-60 passes with three touchdowns and two interceptions. The Cavaliers led 13-10 at halftime, but they gave up 20 points in the third quarter. Louisville mounted its comeback behind junior running back Hassan Hall, who ran for 162 yards on 14 carries. Louisville had a final chance but James Turner's 49-yard field goal attempt as time expired sailed left.
BOWLING GREEN, Ky. (AP) — Frank Harris threw for 349 yards and six touchdowns and hauled in a 23-yard touchdown pass himself as Texas-San Antonio out-lasted Western Kentucky in a game that saw the teams combine to score 98 points, earning a 52-46 victory for the Roadrunners' school-record sixth straight win to start the season. Harris found De'Corian Clark for three touchdowns, the third time on a 43-yard hook-up to give UTSA a 52-43 lead with 6:39 left.