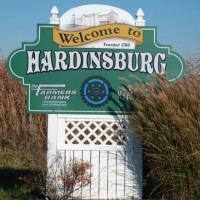 9/13/2021—The Hardinsburg City Council approved the second reading of an ordinance setting tax rates for the current year.  The real and personal property tax rate is 33 cents per $100 assessed valuation.  The motor vehicle tax rate is 28 cents, and the Fire Department tax rate is 3 cents.  A public hearing was held September 8, but no one spoke.
In other business, the Council accepted a bid of $35,985.84 from Ray's Ford of Brandenburg, for a 2021 Ford F150 responder truck for the police department.
Steve Valdes was awarded the bid for roof replacement at City Hall.  The amount of the bid is $47,250.00.  Valdes also was awarded the bid to install a hatch access to the roof at a cost of $2,250.00.
The Council approved a motion to donate the old water plant property on Highway 259 to the Breckinridge County Industrial Development Board.  Breckinridge United Executive Director Meredith Dubree hopes the property can be developed to benefit county residents.
The Council approved a motion to request a Litter Abatement Grant of approximately $1,500.00.
Veolia Water Project Manager Mike Masterson said the city has received two petitions to request water line extensions.  The first had eight signatures to construct a water line on Lyons-Daugherty Road.  The other petition had 17 signatures to request a water line on Highway 629 South, from Black Lick Church Road to the Old Railroad Road intersection.  Bob Taylor, with the Kentucky Engineering Group, said they are working on obtaining easements for the water line construction project along Highways 333, 1238, 2201, and 2781.  They are also looking to possibly expand service on Dent's Bridge Road from KY 333 to Sinking Creek.
The Council approved a motion to install speed humps on Homeplace Lane in the Forest Hills Subdivision.
The Fire Department made 38 runs in August.
The Police Department made four felony and four misdemeanor arrests in August.  The department issued 13 citations.  They worked three injury, and four non-injury accidents, and responded to 191 911 calls.
Mayor Wayne Macy said trick or treating will be held Saturday, October 30 after the Halloween Parade.  There will be no trick or treating on Sunday, October 31.