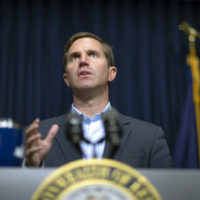 FRANKFORT, Ky. (AP) — Kentucky's Democratic governor has given a blistering review of the Republican-led legislature's decision to halt statewide mask mandates to combat COVID-19.
Governor Andy Beshear says that instead of leading, lawmakers "punted" masking decisions in schools to local district leaders. His criticism on Friday came a day after the legislature ended a three-day special session. The legislature passed bills Thursday that scrapped a statewide mask mandate in public schools and imposed a prolonged ban on any statewide mask mandate.
GOP lawmakers overrode the governor's vetoes of the provisions in those bills that ended blanket masking requirements.