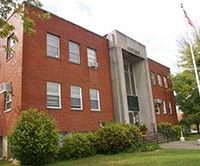 7/19/2021—Magistrates approved a motion to move forward with a proposed nuisance ordinance at the regular meeting of Breckinridge Fiscal Court Monday morning. In a discussion prior to the vote, it was decided to exempt farming activity and machinery from the proposed ordinance. Also, all junk vehicles need to be moved out of sight. County Attorney Brett Butler said a draft ordinance will be presented at the next regular meeting of the Court on August 16. In a related matter, Tony Medley, a resident of the Sixth District, asked the Court to consider abandoned and burned out property in the ordinance.
In other business, the Court approved two motions accepting proposed pay scales for County employees and Detention Center employees. Both scales were last updated in 2019. County Jailer Tara Shrewsberry said no additional funds would be needed for the Detention Center increase. Funds would come from a $2.00 per diem increase from the state. She also said a ten year column has been added to the pay scale The first reading of both pay scale ordinances will be on August 16. Shrewsberry noted that the Jail will be paid off in 2024.
The inmate population at the Detention Center is 215.
The Court approved a resolution adopting a lease for two dump trucks through the Kentucky Association of Counties Leasing Trust. After paying $40,000, the lease will be for $161,732.00, with an interest rate of 2.68 per cent.
Magistrates approved a corrected list of roads in the County Maintenance System.
Magistrates approved the addition of 0.371 miles of Lakeview Lane in to the County Road Maintenance System.