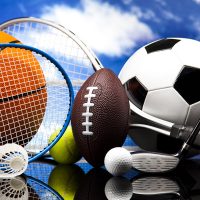 SANDWICH, England (AP) — Louis Oosthuizen is the second-round leader at the British Open after setting a 36-hole scoring record for the tournament. He shrugged off his first bogey of the week for a 5-under 65 and a two-stroke lead over former PGA champion Collin Morikawa. Oosthuizen broke away from a three-way tie with a birdie-birdie-eagle run from the 12th hole.
WASHINGTON (AP) — Washington Nationals infielder Starlin Castro has been placed on administrative leave by Major League Baseball under its domestic violence, sexual assault and child abuse policy. The administrative leave can be for up to seven days but has been extended for players under the policy in the past while MLB investigates an allegation. Castro was placed on the restricted list June 16 due to what manager Dave Martinez at the time said were "family matters."
TORONTO (AP) — The Toronto Blue Jays have received approval from the Canadian government for an exemption on border restrictions that would allow them to play in Canada later this month. The Blue Jays had asked the federal government to allow them to play at Rogers Centre starting July 30 and wanted a response by Friday. The Canadian government didn't allow the team to play in Toronto because of the risk of spreading COVID-19, citing frequent travel required in the U.S. during a baseball season.
CHICAGO (AP) — The Houston Astros have activated All-Star shortstop Carlos Correa from the injured list before Friday night's matchup of AL division leaders against the Chicago White Sox. Correa was placed on the IL last week due to health and safety protocols. He skipped Tuesday's All-Star game so he could spend time with his wife, Daniella, who is expecting the couple's first child.
SEATTLE (AP) — NFL free-agent defensive back Richard Sherman said Friday that he is "deeply remorseful" following his arrest on accusations of drunkenly crashing his SUV in a construction zone and trying to break in to his in-laws' suburban Seattle home this week. Sherman was arraigned on five criminal charges that also include reckless endangerment of road workers and malicious mischief. Police reports say Sherman was belligerent, had been drinking heavily and spoke of killing himself when he left his home in the Seattle suburb of Maple Valley late Tuesday.