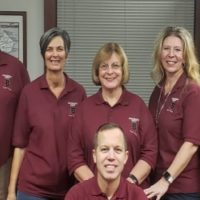 7/14/2021—The Breckinridge County Board of Education approved a proposed grading scale at Breckinridge County High School at their regular meeting Wednesday evening.  The scale is as follows: A(100-90); B(89-80); C(79-70); D(69-60); and F(59 and below).
In other business, the Board heard an update on the BCHS renovation project.  Chief Financial officer Michael Moreland said the classroom area, restrooms, and auditorium, will be finished by the start of school.  Moreland also said the Board has received five letters of interest from architects, and two letters of interest from construction managers, on the proposed BCMS renovation project.  No action was taken.
The Board approved the 2022 District Funding Assurances.
Superintendent Dr. Nick Carter said there will be no changes to the use of metal detectors in the district's schools.
The Board approved a letter of engagement for the continued use of English, Lucas, Priest, and Owsley as Board attorneys.
The Board approved continued participation in the Community Eligibility Provision for all schools.  This assures that all students will receive a free lunch and breakfast in the coming year.
The Board reviewed the annual Data Security Practices document.
The Board approved application for a Fuel Up to Play 60 Grant.
An amended contract with Bluegrass Lumber was approved.  They will provide appliances for the High School for $7,000.00. They will repurchase them at the end of the school year for $6,300.00.
Dr. Carter said the first day of school for students is Wednesday, August 11, 2021.
At the beginning of the meeting, Area Technology Center Principal Tom Thompson gave a progress report on activities at the school.