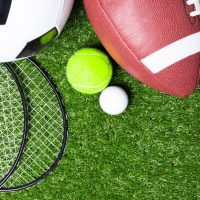 DENVER (07/12/21) — Major League Baseball conducts it's All-Star Game tonight in Denver. The Angels Shohei Ohtani will be the American League's starting pitcher and lead off. He leads the Majors with 33 home runs and is 4-1 as a pitcher with a 3.49 ERA. The National League sends out Washington's Max Scherzer as it's starter.
DENVER (07/12/21) — The Mets' Pete Alonzo won his second straight Home Run Derby title, joining Ken Griffey, Jr and Yeonis Cespedes as the only back-to-back winners of the event.
SANDWICH, England (AP) — Zach Johnson is the latest player out of the British Open. The 2015 British Open champion tested positive for the coronavirus. Johnson played at the John Deere Classic in Illinois on Sunday and had to be tested before getting on a charter flight.
LAS VEGAS (07/12/21) — USA Men's Basketball is now 0-2 in their preparations for the Tokyo Olympics later in the month. Australia topped the U.S., 91-83 on Monday night in Las Vegas. The result follows a loss to Nigeria in the opener of the five-game schedule last week.