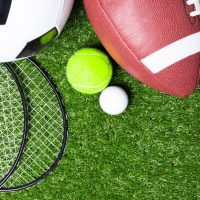 UNDATED (03/29/21) — The High School baseball and softball seasons open today: the Breckinridge County Fighting Tigers are on the road at Owensboro Catholic with coverage on WXBC beginning around 5:20 this afternoon. The Lady Tiger softball team opens at Grayson County.
OWENSBORO (03/28/21) — Muhlenberg County is headed to the Boys Sweet Sixteen in Lexington for the first time in 11 years: The Mustangs punched their ticket winning the 3rd Region title over Owensboro Catholic Sunday afternoon, 46-31. They'll face Fort Thomas Highlands Thursday afternoon.
INDIANAPOLIS (03/28/21) — Overall top seed Gonzaga advanced to the Elite Eight with an 83-65 win over Creighton on Sunday…Michigan also advanced with a 76-58 win over Florida State…UCLA needed overtime to oust Alabama, 88-78 and USC advanced with an 82-68 win over Oregon.
SAN ANTONIO (AP) — Dana Evans scored 29 points and No. 2 seed Louisville advanced to the Elite Eight of the women's NCAA Tournament with a 60-42 win over sixth-seeded Oregon. The Cardinals will face top seed Stanford on Tuesday night in the Alamo Region final.