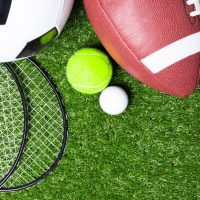 UNDATED (02/22/21) — The Breckinridge County Fighting Tiger basketball team returns to action tonight at Tiger Arena against Edmonson County. Coverage on 104.3- the River begins around 6:45 ahead of the scheduled 7pm tipoff. The Cloverport Aces and Lady Aces are scheduled to travel to Louisville Brown.
COLUMBUS, Ohio (AP) — Third-ranked Michigan had five players score in double figures in a 92-87 victory over No. 4 Ohio State. Freshman center Hunter Dickinson led the way with 22 points and nine rebounds as Michigan improved to 16-1 overall and 11-1 in the conference.

DAYTONA BEACH, Fla. (AP) — Christopher Bell chased down Joey Logano on the winding Daytona road course for his first career Cup victory and a coveted spot in NASCAR's playoffs. Denny Hamlin was third, followed by Kurt Busch and Brad Keselowski.
LOS ANGELES (AP) — Max Homa captured the PGA Tour's Genesis Invitational Sunday in a one-hole playoff against Tony Finau. The win was secured just minutes after Homa missed a 3-foot birdie putt on 18 to extend the tournament.