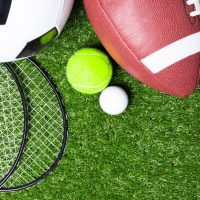 CHICAGO (AP) — Kirk Cousins threw for 292 yards and two touchdowns, and the Minnesota Vikings beat the Chicago Bears 19-13. Cousins hit Adam Thielen with a 6-yard TD early in the fourth quarter to put Minnesota on top. Bears quarterback Nick Foles got taken from the field on a cart in the game's final minute after landing on his right, throwing shoulder.
UNDATED (11/16/20) — 5th-ranked Texas A&M and Number 12 Miami are among the COVID casualties for the upcoming weekend's games. The Aggies' game against Ole Miss has been called off, while the Hurricanes have dropped the three remaining games on their schedule. Also, 15th-ranked Marshall has postponed it's game with Charlotte.
UNDATED (AP) — The NCAA says it plans to hold the entire 2021 men's college basketball tournament in one location to mitigate the risks of the coronavirus. It is in talks with Indianapolis to be the host city. The Final Four is already set to be held in Indianapolis next year.
UNDATED (AP) — All-Star guard Chris Paul has been traded from the Oklahoma City Thunder to the Phoenix Suns. The Thunder got Ricky Rubio, Kelly Oubre ,Jalen Lecque, Ty Jerome and a 2022 first-round pick. The Suns also got Abdel Nader from the Thunder.