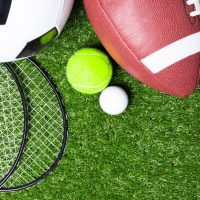 NASHVILLE, Tenn. (AP) — Philip Rivers threw for 308 yards and a touchdown and Nyheim Hines scored twice as the Indianapolis Colts beat the Tennessee Titans 34-17 Thursday night. The Colts seized control in the third quarter, taking advantage of the Titans' special teams woes that included a blocked punt for a TD.
AUGUSTA, Ga. (AP) — Paul Casey was the clubhouse leader when the first round of the Masters was suspended for the day due to darkness. Casey shot a 7-under 65 and sat two strokes ahead of Webb Simpson, Xander Schauffele and Justin Thomas.
LEXINGTON (AP) — Kentucky women's basketball coach Matthew Mitchell announced his retirement Thursday, effective immediately. The 49-year-old Mitchell cited "an eventful offseason" with an head injury and subsequent brain surgery in a release Thursday night.
LEXINGTON, Ky. (AP) — Kentucky offensive line coach John Schlarman has died after a two-year fight with bile duct cancer. He was diagnosed in the summer of 2018 but continued to coach throughout treatment.
NEW YORK (AP) — Atlanta Braves first baseman Freddie Freeman is the National League MVP. The American League MVP is Chicago White Sox first baseman Jose Abreu.