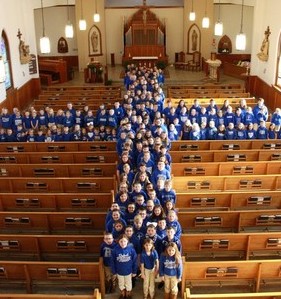 The St. Romuald Fall Festival will be very different this year.
Due to COVID restrictions, the auction is entirely online and the Fish Fry is drive-thru only.
Below, you will find information regarding the changes St. Romuald is making to ensure a safe and exciting festival for our community this season!
ONLINE AUCTION
CLICK HERE TO VIEW ONLINE AUCTION
On Monday, October 12th, the online auction will open online with Barr Realty and Auction and will continue until Friday, October 23rd at 4:00p.m.
The auction will include themed class baskets, put together by the students! At the above link, you will find pictures and descriptions of each item.
Encourage your friends and family to register online, view the wonderful auction items, and bid vigorously to support a great cause.
DRIVE-THRU FISH FRY
On Friday, October 23rd from 4:00p.m. to 7:00p.m., St. Romuald will be having a drive-thru, carry-out only Fish Fry. CDC guidelines will be strictly followed. 
Patrons will arrive and follow the line in your vehicle.
Orders will be taken at your car window, payment will be made.
As the designated runners take your order to the kitchen, you will circle the gym.
When you get back to the door between the gym and elementary building, you will receive your delicious meal to take home!
The SRIS PTO Fall Festival is the organization's main fundraiser for the school year and PTO is vital to the operation of the school. In addition to many areas of financial support the PTO provides, its main allocation is to provide each teacher with classroom funds that directly support the education of our children.
St. Romuald would like to thank the community for the continued support during these challenging times. Visit the link above to start bidding on the online auction, and don't forget to pick up a delicious fish dinner!