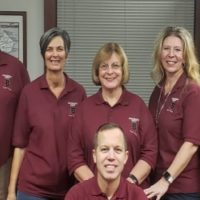 10/14/2020—The Breckinridge County Board of Education approved final paperwork to close out the Area Technology Center construction project at their regular meeting Wednesday evening. The final cost of the project is $6,682,916.75. According to Chief Financial Officer Michael Moreland, the project had a surplus of $60,000.
In other business, the Board approved bids on dishwashers at BCHS and BCMS. The High School dishwasher bid is $43,119.21. The Middle School dishwasher bid is $44,020.05.
The Board heard an update on the BCHS construction project. The footers for the athletic field buildings have been poured. In the High School building, restroom and computer lab renovations are under way.
The District Energy Management program was discussed. According to Financial Officer Michael Moreland, energy costs are down 50% from this time last year.
Out of attendance area requests were approved.
The District Elementary All-Star teams were approved.
Board member Rick Taylor was appointed to serve on the Calendar Committee. The other members of the committee were also approved. They are Mike Harned, Chair; Dr. Michael Broadbent, Kathina Bell, Missy Hopper, Wanda Stevenson, Tiffany Tabor, and Becky Pollock. Also, Angie Riley, Becky Brown, and Meredith Dubree.
BCMS Principal Kevin Coomes presented the Middle School "Defense of Learning" project. The pilot program is being implemented this year to all eighth graders.
Superintendent Dr. Nick Carter recognized Middle School teacher Shannon Tabor. She has been named a finalist for the Western Kentucky University Distinguished Educator Award. Carter also thanked the community, students, and staff for their cooperation in implementing the A/B schedule.