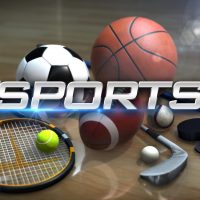 HARNED (09/11/20) — The Breckinridge County Fighting Tiger football team opens their season tonight at Tiger Stadium against Caverna. Coverage on 104.3 the River begins around 6:30 with "Tiger Talk", with kickoff scheduled for 7. A reminder that attendance is limited to just 20-percent capacity with no ticket sales at the gate (Tickets- primary for family members of players- are available through the high school). In volleyball, the Lady Tigers opened their season with a three-set (25-19, 25-13, 25-19) win over Whitesville Trinity Thursday evening. The Cloverport Lady Aces lost in three sets (22-25, 25-16, 25-21) to Cannellton.
KANSAS CITY, Mo. (AP) — Patrick Mahomes threw for three touchdowns and the Kansas City Chiefs began their Super Bowl title defense with a 34-20 win over the Houston Texans. Rookie Clyde Edwards-Helaire ran through the rain for 138 yards and a touchdown in his first game since the Chiefs grabbed him in the first round of the NFL draft out of LSU. Travis Kelce, Sammy Watkins and Tyreek Hill grabbed scoring passes from Mahomes, the reigning Super Bowl MVP.
LAKE BUENA VISTA, Fla. (AP) — The Los Angeles Lakers own a three-games-to-one lead in the NBA's Western Conference semifinal series with the Houston Rockets following a 110-100 victory. Anthony Davis had 29 points and 12 rebounds while helping the Lakers win the battle of the boards, 52-26. Houston also had trouble stopping LeBron James, who finished with 16 points, 15 rebounds and nine assists.
UNDATED (09/10/11) — In Major League Baseball, the Cubs beat Cincinnati, 8-5…St. Louis and Detroit split a doubleheader…Atlanta 7, Washington 6 and Kansas City over Cleveland, 11-1.