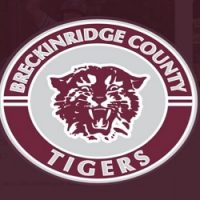 HARNED (09/09/20) — This week marked the return of high school athletics in the wake of COVID-19, and while games are taking place, there are limitations on attendance.
According to Breckinridge County High School Principal Adam Cox, attendance will following a three-segment process for football, volleyball and soccer.For games until September 26th, attendance will be limited to 20-percent, with attendance generally limited to family members of players, with social distancing and masks required. Tickets are available through BCHS Front Desk Monday through Friday from 8am to 3pm with no gate sales available.
Audio and video streaming of games will be available through Breck Live, 104.3- the River and this stream.
Plans include ability to ease restrictions in future segments.
The Lady Tiger Volleyball opens the season Thursday at home against Whitesville Trinity. The Tiger Football team hosts Caverna Friday night, while the Lady Tigers home opener is Monday (09/14) against McLean County.
(Image: Breckinridge County High School)