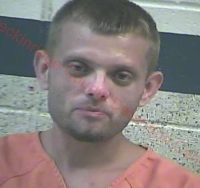 SAMPLE (06/24/20) — A man wanted by authorities was arrested on Wednesday.
According to the Breckinridge County Sheriff's Department, 29-year-old Markus Steffen was arrested in the Sample area.
Steffen was lodged in the Breckinridge County Detention Center (credit/image) on charges of kidnapping and unlawful imprisonment
Original Story…
In a social media post, the Breckinridge County Sheriff's Office is asking for the public's help in locating Markus Steffan. He is wanted for; Unlawful Imprisonment – 2nd Degree, Complicity to Kidnapping (with serious physical injury) in reference to an incident that occurred in Breckinridge County. You're asked to contact the Breckinridge County Sheriff's Office at 270-756-2361 or any local Law Enforcement agency If you have any information on Steffan's whereabouts.