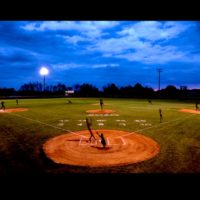 HARDINSBURG (04/30/20) — Hundreds of vehicles paraded by appreciative players and parents as part of the "Tigers Under the Lights" event Thursday night at the Ballpark to honor the BCHS Fighting Tiger baseball and Lady Tiger softball teams whose seasons were canceled in the wake of Coronavirus pandemic.
Speaking on WXBC, Fighting Tiger coach Jeremy Bennett thanked all involved, but noted it was a bittersweet moment….
The baseball team was coming off the first state tournament appearance in 2019 with 10 seniors returning, while the Lady Tigers had posted their first winning season since 2017.