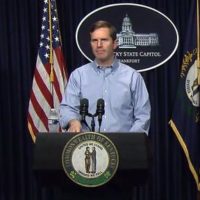 FRANKFORT, Ky. (AP) — Gov. Andy Beshear has taken a new step against mass gatherings.
He said Friday that anyone attending in-person gatherings will be ordered to self-quarantine for two weeks. Beshear said license plates will be recorded to provide to local health departments.
Beshear says local health officials will go to each participant's home with a 14-day self-quarantine order.
The order comes as some Louisville-area churches are planning to hold in-person services.