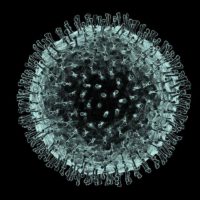 HARDINSBURG (04/09/20) — Health officials are discouraging any Easter gatherings in the wake of the Coronavirus outbreak, urging people to maintain social distancing to limit spread of the disease…
Scott Shrewsberry of the County Health Department during a briefing (video from the event can be found HERE). He said the latest guidance from state and federal is wearing of face masks in public to curb spread, but not to use the N95 or surgical masks needed by medical personnel.
The number of reported cases in the county remains at four, with one person already released from care. The area has seen it's first fatality as a result of the outbreak. Meade County Judge-Executive Gerry Lynn reported the news of the fatality on the Meade Fiscal Court Facebook page…
As of Thursday afternoon, 1,452 positive cases of the virus had been confirmed in Kentucky since March 6th with 79 deaths reported. Indiana has reported 6,351 positive cases as of Thursday with 245 deaths.