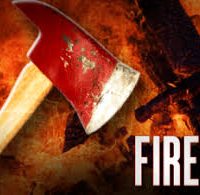 UNDATED (04/02/20) — Area fire departments responded to at least three calls on Thursday afternoon.
The Harned Fire Department was called to old Westview Road just after 3pm on a report of a structure fire. According to Chief Jesse Pile, someone was burning debris near an abandoned house, which ignited the structure. Pile said the gentleman had been warned about burning during the daytime hours.
The Hardinsburg Fire Department was called out around 3:45 Thursday afternoon on a report of a vehicle on fire in the 1500 block of Kentucky Highway 992. The fire was brought under control in about 10 minutes.
Earlier in the afternoon, units from the Custer Fire Department were called around 1:30 to assist Kentucky 86 on a field in the 800 block of Tom Duvall Lane in Hardin County. Units were on scene for about an hour.
The spring forest fire season remains in effect, meaning burning within 150 feet of a wooded area is prohibited between 6am and 6pm.