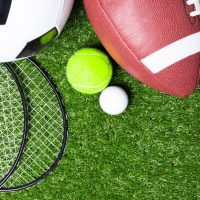 LAUSANNE, Switzerland (AP) — The International Olympic Committee now says it will consider the possibility of postponing the Tokyo Olympics. The IOC says it will hold four weeks of discussions with global sports officials and Japanese authorities to examine the options. It says "scenario planning" will include the possibility of changing the July 24 start date for the Games, but that "cancellation is not on the agenda."
TOKYO (AP) — Japanese Prime Minister Shinzo Abe says a postponement of the Tokyo Olympics would be unavoidable if the games cannot be held in a complete way because of the coronavirus impact. The Canadian Olympic Committee has made the strongest objection yet to an Olympics this summer, announcing it will not send a team to Tokyo unless the games are postponed for a year.
UNDATED (AP) — Toronto Blue Jays President Mark Shapiro says he thinks Major League Baseball would need at least a month of workouts and exhibition games before regular season play can begin. Opening day has been postponed until at least mid-May because of the coronavirus pandemic.
NEW YORK (AP) — The New York Jets and cornerback Pierre Desir have agreed to terms on a deal, according to two people with direct knowledge of the contract. The Athletic first reported the Jets' agreement with Desir, who was released by Colts on Saturday.
NEW ORLEANS (AP) — Wells Bayou took an early lead and held off Ny Traffic to win the $1 million Louisiana Derby by a head. The qualifying points race for the Kentucky Derby was one of the few U.S. sporting events to continue as scheduled amid the coronavirus pandemic. It was run in front of an empty clubhouse and grandstand at Fair Ground Race Course because of crowd restrictions related to the virus.
UNDATED (AP) — Horse racing is quickly learning it's not totally immune to the coronavirus pandemic. Several U.S. tracks have decided to shut down instead of operating without fans in the stands. Horse racing seemed to be well-positioned to continue operating with online gambling and more TV coverage to keep the sport going in the coming weeks and months.