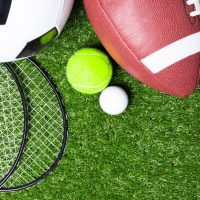 INDIANAPOLIS (AP) — DeForest Buckner made it official by signing a four-year, $84 million contract with the Indianapolis Colts, one day after his celebrating his 26th birthday. The announcement came two days after reports surfaced that Indy would trade its first-round pick in next month's draft to San Francisco in exchange for Buckner. Indy also has agreed to terms on a one-year, $25 million deal with quarterback Philip Rivers.
JACKSONVILLE (AP) — The Jacksonville Jaguars  agreed to trade quarterback Nick Foles to the Bears for a compensatory fourth-round draft pick. That's according to a person familiar with the transaction. The Jaguars are dumping Foles a little more than a year after giving the 2018 Super Bowl MVP a four-year, $88 million contract that included $50 million guaranteed.
UNDATED (AP) — The NBA is considering an idea where some players would be quarantined or isolated for purposes of being able to compete against one another and provide basketball fans with some sort of diversion from the coronavirus pandemic. NBA Commissioner Adam Silver revealed that notion as one of several items under consideration by the league right now during the shutdown caused by the pandemic.
LAWRENCE, Kan. (AP) — Kansas has finished the season No. 1 in The Associated Press college basketball poll, receiving 63 of 65 first-place votes from a national media panel. Gonzaga was second and Dayton third with Florida State and Baylor rounding out the top five. Kentucky finishes 8th and Louisville 14th.
NEW YORK (AP) — South Carolina is No. 1 in the final Associated Press women's basketball poll of the season for the first time in school history. The Gamecocks received 26 first-place votes and No. 2 Oregon got the other four. Baylor, Maryland and UConn round out the top five. Louisville ended the year in 10th, Kentucky 16th and Indiana placed 20th.
UNDATED (03/19/20) — 104.3- the River and UK Sports Network are providing "classic" N-C-Double-A tournament re-broadcasts in place of this year's tournament that was cancelled by the Coronavirus outbreak. Six games will be broadcast over the next three weekends, starting with the 2012 Final Four game against U-of-L. Coverage begins at 6 this evening, with game rebroadcast at 6:30