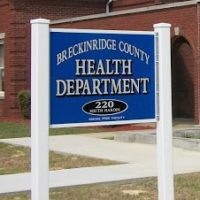 HARDINSBURG (03/06/20) — The Breckinridge County Health Department issued the following statement Friday night after the first confirmed case of the Coronavirus in Kentucky…
"As of 03/06/2020, we were made aware that there is a positive case of COVID-19, also known as Coronavirus, in Kentucky. We have no cases in Breckinridge County at this time and no cases under investigation in Breckinridge County. The Kentucky Department of Public Health and Kentucky Officials have been planning for this as Governor Beshear stated in his news conference. The Breckinridge County Health Department has been involved in the many conference calls with the Kentucky Department of Public Health as events have evolved in our country and are also participating in the planning efforts. We encourage everyone to continue with daily activities without panic.
The Breckinridge County Health Department wants to remind you of the precautions you can take to help prevent all illnesses.
Good hygiene practices include:
*wash your hands with soap and water
*get your flu vaccine
*cough and sneeze in your elbow/sleeve or use a tissue and dispose of properly
*avoid touching your eyes, nose, and mouth with unwashed hands
*stay home if you are sick and avoid close contact with people who are sick
We will continue to work with local officials/entities and the Kentucky Department of Public Health to monitor the situation and will continue to keep you informed. If you would like more information please visit  www.kycovid19.ky.gov or the Center for Disease Control website (cdc.gov).  Note, if you have developed a fever or respiratory symptoms and believe you have had exposure to a known case or traveled to an area with known positive cases, isolate yourself from others in your home and contact your healthcare provider or local health department to describe your symptoms and any recent travels before you go to the healthcare facility."
COVID-19 Hotline toll free (800) 222-1222
State officials confirmed the first case of the virus in Kentucky on Friday afternoon after the first positive test returned. The unidentified person is currently in isolation in Lexington. Ten tests have been performed on potential cases, with all but the one coming back negative. Beshear assured Kentuckians there is no need to panic but officials are continuing to monitor the situation.
Statement from the Breckinridge County Health Department…