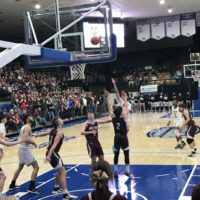 OWENSBORO (03/04/20) — Breckinridge County rallied from 10 down in the second half to take a lead, only to see McLean County rally back and defeat the Fighting Tigers, 52-46 in the Boys Third Region Tournament Wednesday at the Sportscenter. Kaeveon Mitchell led Breckinridge County with 21, while Jared Shrewsberry added 14. The Tigers complete their season with a record of 20-10.
OWENSBORO (03/04/20) — McLean County will face Owensboro Catholic in the first semifinal on Saturday night: The Aces advanced with a 77-61 win over Butler County. Coming up tonight, Meade County faces Owensboro at 6 Central time, followed by Muhlenberg County against Grayson County.
BLOOMINGTON, Ind. (AP) — The Indiana Hoosiers got 18 points from Trayce Jackson-Davis and 12 from Joey Brunk to pick up a key 72-67 victory over Minnesota. Indiana snapped a two-game losing streak as it tries to make a late push to seal its first NCAA Tournament bid under coach Archie Miller.
UNDATED (03/04/20) — In Top 25 college basketball from Wednesday night, top-ranked Kansas beat TCU, 75-66…number 3 Dayton 84, Rhode Island 57…7th-ranked Florida State rallied to beat Notre Dame, 73-71…number 14 Villanova topped 8th-ranked Seton Hall, 79-77…11th-ranked Creighton beat Georgetown, 91-75…Texas A&M upset number 17 Auburn, 78-75…22nd-ranked Virginia over Miami, 46-44 and number 23 Wisconsin over Northwestern, 63-48.
MILWAUKEE (AP) — Giannis Antetokounmpo had 29 points, 12 rebounds and six assists and the Milwaukee Bucks recovered after squandering an early 22-point lead to trounce the Indiana Pacers 119-100 on Wednesday night. T.J. Warren scored 18 points and Doug McDermott had 16 for the Pacers.
NEW YORK (AP) — Josh Jackson scored 19 points and the Memphis Grizzlies ran away from the Brooklyn Nets during the second half of a 118-79 blowout. Tyus Jones added 18 points for Memphis, which extended its winning streak to three games. Ja Morant scored 15. 
UNDATED (03/04/20) — Other NBA scores from Wednesday: Boston over Cleveland, 112-106…Oklahoma City 114, Detroit 107…Miami beat Orlando, 116-113…Utah over the Knicks, 112-104…Minnesota beat Chicago, 115-108…Dallas over New Orleans in overtime, 127-123 and Portland topped Washington, 125-104. 
LEXINGTON, Ky. (AP) — Kentucky athletic director Mitch Barnhart tweeted "there will be consequences" for a UK fan shown in a couple of videos yelling a racial slur at a Tennessee fan near the end of Tuesday's loss to the Volunteers. The woman has identified herself to a Lexington television station and issued an apology for her actions.