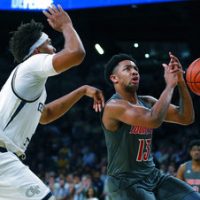 ATLANTA (AP) — For the first time since early January, No. 5 Louisville has tasted defeat. Georgia Tech pulled off a 64-58 upset, snapping the Cardinals' 10-game winning streak. Jose Alvarado scored 18 points to lead the Yellow Jackets. The Cards' and ACC's leading scorer Jordan Nwora was held to a season low 2 points.
UNDATED (02/12/20) — In the Top 25 from Wednesday, 3rd-ranked Kansas beat number 14 West Virginia, 58-49… 23rd- ranked Creighton beat number 10 Seton Hall, 87-82…11th-ranked Auburn needed overtime to get past Alabama, 95-91…number 15 Villanova edged 18th-ranked Marquette, 72-71…number 19 Butler beat Xavier, 66-61 and 20th ranked Houston over South Florida, 62-58.
INDIANAPOLIS (AP) — The Indiana Pacers took advantage of a 10-0 fourth-quarter run to snap a six-game losing streak with a 118-111 victory over the Milwaukee Bucks. T.J. Warren had 35 points and Malcolm Brogdon had 17 points and 13 assists to lead the Pacers.
MEMPHIS, Tenn. (AP) — Brandon Clarke matched his career high with 27 points, Ja Morant had 20 points and nine assists and the Memphis Grizzlies went into the All-Star break with a 111-104 victory over the Portland Trail Blazers. De'Anthony Melton and Jonas Valanciunas scored 12 points each.
UNDATED (02/12/20) — Other scores from NBA on Wednesday, Cleveland beat Atlanta, 127-105…Orlando beat Detroit in overtime, 116-112…Washington 114, the Knicks 96…Brooklyn over Toronto, 101-91…Charlotte defeated Minnesota, 115-108… Dallas 130, Sacramento 101…Utah beat Miami, 116-101…Phoenix over Golden State, 112-106 and LeBron James had 32 points, 11 rebounds and 14 assists in the Lakers' 120-114 overtime win at Denver.
UNDATED (AP) — Browns star defensive end Myles Garrett has been reinstated by the NFL after being suspended for hitting Steelers quarterback Mason Rudolph in the head with a helmet in a Nov. 14 game. The 24-year-old Garrett missed Cleveland's final six games last season after the incident. Garrett has expressed remorse for pulling off Rudolph's helmet and smashing him in the head with it in the final seconds of Cleveland's nationally televised win over Pittsburgh.
JUPITER, Fla. (AP) — Brad Miller and the St. Louis Cardinals agreed to a $2 million, one-year contract. The deal for the 30-year-old infielder includes $500,000 in available performance bonuses for plate appearances. He hit .260 with 13 homers and 25 RBIs last year for Cleveland and Philadelphia.