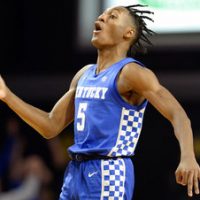 GREENVILLE (02/11/20) — The Breckinridge County Fighting Tiger basketball team lost in double-overtime Tuesday night at Muhlenberg County by a score of 86-83. Their next game is Friday night at Hancock County as part of a boy-girl doubleheader. 
NASHVILLE (AP) — Tyrese Maxey scored 25 points, and the 12th-ranked Kentucky Wildcats rallied from their biggest halftime deficit this season to beat Vanderbilt 78-64. UK trailed by as much as 14 in the first half and were down 36-27 at halftime before rallying to win coach John Calipari's 400th game at Kentucky.
UNDATED (02/11/20) — Elsewhere in the Top 25, 4th-ranked San Diego State improved to 25-0 with an 82-59 win over New Mexico…number seven Dayton rolled to an 81-67 win over Rhode Island…number nine Maryland held off Nebraska, 72-70… 13th-ranked Penn State 88, Purdue 76…Michigan State knocked off number 22 Illinois, 70-69 and 25th-ranked LSU beat Missouri, 82-78. (Coming up tonight, 5th-ranked Louisville is at Georgia Tech.)
WASHINGTON (AP) — NCAA President Mark Emmert has urged Congress to step in and put restrictions on college athletes' ability to earn money from endorsements. Emmert told a Senate committee federal action was needed to "maintain uniform standards in college sports" amid player-friendly laws approved in California and under consideration in other states.
UNDATED (02/11/20) — Only four games in the NBA  on Tuesday night: Philadelphia improved to a league-best 25-2 at home with a 110-103 win over the Clippers….Washington 126, Chicago 114… Zion Williamson scored 31 in New Orleans' 138-117 win over Portland and James Harden poured in 42 points as Houston topped Boston, 116-105.
FORT MYERS, Fla. (AP) — The Boston Red Sox made Ron Roenicke their interim manager, promoting the former Brewers skipper to replace Alex Cora on the day pitchers and catchers reported to the team's spring training site. The interim tag will stay until Major League Baseball completes its investigation into whether the Red Sox engaged in illegal sign-stealing during their 2018 World Series championship season. 
CHARLOTTE, N.C. (AP) — Carolina Panthers owner David Tepper remains noncommittal on Cam Newton's future with the organization, saying it will largely depend on how the quarterback recovers from foot surgery. Newton missed 14 games this past season due to the injury and surgery. The Panthers could save $19 million under next year's salary cap if they trade or release the 2015 league MVP.