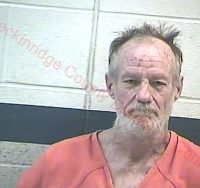 HUDSON (02/09/20) — An altercation between two men in the Hudson area on Sunday led to one of the parties being charged.
According to Breckinridge County Sheriff's Department Chief Deputy Bruce Anthony, units were called to a location along Keith Hart Lane where the victim told them that 58-year-old Robert Moline had stabbed him with a pocket knife.
Moline was later located and lodged in the Breckinridge County Detention Center on charges of wanton endangerment 1st and assault 2nd degree.
(Image: Breckinridge County Detention Center)