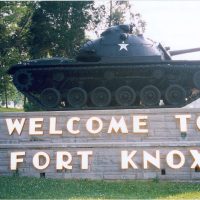 WASHINGTON (02/11/20) — The Pentagon announced Tuesday that Fort Knox will receive a new Army Corps headquarters.
According to the U.S. Army, Fort Knox will be the fourth headquarters location activated and will be called the Fifth (or V) Corps.
The location of the headquarters will bring approximately 635 additional soldiers to the Hardin County installation.
Second District Congressman Brett Guthrie said following the announcement, "Fort Knox and the surrounding communities have the assets and the attitude to host these new soldiers and their families. Kentucky is a great place to be a soldier, and I look forward to welcoming the over six hundred troops that will be coming."
U.S. Senator Mitch McConnell also issued a statement, in part saying, "As the Army continues modernizing its force structure to counter evolving global threats, Fort Knox is best choice to meet our urgent national defense needs. With its unmatched level of community support, Fort Knox will offer V Corps a warm welcome." Senator Rand Paul also issued a comment: "From working to protect Fort Knox's energy independence capabilities, to advocating for service members at all of our military bases to be counted correctly by the census, I'm proud to be a voice for Kentucky's soldiers, their families, and their communities."
The first soldiers could arrive as early as this fall.