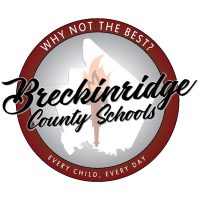 2/12/2020—The Breckinridge County Board of Education approved tentative allocations to School Councils at their regular meeting Wednesday evening.  Assistant Superintendent Jayme Knochel said the projected enrollment for next year is 2,576 students.  As a result, the District will lose one certified staff member.  Knochel said the District will add a Junior ROTC instructor, and one Head Start Preschool teacher.
In other business, the Board approved Design Development drawings for the BCHS renovation project and the Guaranteed Energy Savings project.  Corresponding paperwork for the Kentucky Department of Education, on both projects, was approved.
After hearing an update on the Area Technology Center construction project, the Board approved nine change orders.
The Board approved District Assurances for the Fiscal Year 2020 and 2021 for  Family Resource Youth Service Centers.
The Board approved the expulsion of three BCHS students for violation of the Student Code of Conduct.
An out of attendance area request was approved.
Two out of state field trips were approved.  The HES 4th Grade will go to Corydon, Indiana, and the BCMS 4-H Adventurers Science Club will go to California in May, 2021.
The Board approved a waiver for Board Charter School Training Hours.
Shannon Tabor was named representative to the Certified Staff Evaluations Appeal Panel, and Mike Harned was named alternate.
Ag Shop equipment was declared as surplus property.
The Board approved the application for an Arizona State University/Verizon 2020/2022 STEM Grant, and a Zoo Kids Inc. for Educators Spring 2020 Grant.
The Board changed their regular meeting time.  Beginning in March, the Board will meet the second Wednesday of the month at 5:15pm at the Board Office.
In personnel matters, the retirements of BCHS teachers Rod Smith, Dwayne Mitcham, and Gary T. Smith were noted.  Also retiring is BCHS teacher Ann O'Connell; Donnie Slaughter, Bus Driver; and Priscilla Kellems, Cook at BCHS.