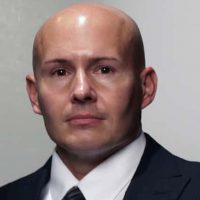 (UPDATE- 12noon, Friday, (02/07/20) –According to Indiana State Police, Galloway resigned his position on Wednesday (02/05) , one day after he was served with the arrest warrant.
In addition, animal cruelty charges were added Thursday (02/06) for two dogs that were killed.
Original Story…
TELL CITY, In. (02/04/20) — An Indiana State Trooper has been arrested and charged with setting a fire at his residence in Tell City last year.
44-year-old Jeremy Galloway was arrested Tuesday and charged with arson and insurance fraud in connection to a fire last October that damaged his home and destroyed an adjacent outbuilding with two motorcycles inside.
An investigation determined arson with an investigation presented to prosecutors and a judge.
Galloway was lodged in  the Perry County Jail following his arrest.
A press release from the Jasper post stated Galloway is on unpaid administrative leave. 
(Image: Indiana State Police/Jasper District 34 Post)