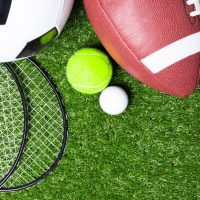 UNDATED (02/04/20) — The Breckinridge County Fighting Tiger Basketball team is back in action tonight at Owensboro. Coverage on 104.3- the River begins around 6:45 ahead of the scheduled 7pm tipoff. 
UNDATED (02/03/20) — In games from Monday night, the Lady Tigers dropped a 48-46 decision at Central Hardin. The Cloverport Aces beat Louisville Brown, 55-49 while the Lady Aces lost to Brown, 46-42.
LEXINGTON (02/04/20) — UK Basketball looks to rebound from the Auburn loss as they play Mississippi State tonight at Rupp Arena. Gametime is at 8 tonight with coverage on WXBC joined in progress following the Breckinridge County-Owensboro game.
UNDATED (02/03/20) — The Wildcats dropped to 15th in the latest AP Top 25 Poll following the loss to Auburn. Louisville moved up to 5th in the rankings released on Monday. Baylor remained at number one, followed by Gonzaga, Kansas and San Diego State. 
UNDATED (02/03/20) — Three games in the Top 25 on Monday: Baylor beat Kansas State, 73-67…Kansas over Texas, 69-58 and 8th-ranked Florida State beat North Carolina, 65-59.
INDIANAPOLIS (AP) — Kristaps Porzingis had 38 points and 12 rebounds to lead the Dallas Mavericks to a 112-103 victory over the Indiana Pacers. Porzingis shot 6 of 13 on 3-pointers and made all 12 of his free throws. Domantas Sabonis led the Pacers with 26 points.
MEMPHIS, Tenn. (AP) — Jonas Valanciunas had 26 points and 17 rebounds, Dillon Brooks added 15 points and the Memphis Grizzlies beat the Detroit Pistons 96-82 to sweep the season series. Jaren Jackson Jr. finished with 14 points and Tyus Jones added 13.
UNDATED (02/03/20) — Elsewhere in the NBA, Golden State 125, Washington 117…Orlando beat Charlotte, 112-100…the Knicks beat Cleveland in overtime, 139-134…Brooklyn topped Phoenix, 119-97…Boston over Atlanta, 123-115…Miami 137, Philadelphia 106…Sacramento beat Minnesota, 113-109 and the Clippers defeated San Antonio, 108-105.
KANSAS CITY (AP) — The Super Bowl partying in Kansas City will continue on Wednesday, with a downtown parade for the Chiefs. A parade through downtown is set for 11:30 a.m. Wednesday, followed by a rally at Union Station. Officials announced the celebration Sunday night, shortly after the Chiefs defeated San Francisco in Super Bowl 54.