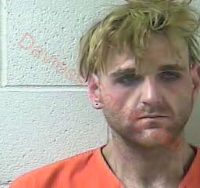 OWENSBORO (01/09/20) — A Hancock County man charged in connection to a 2016 murder case has plead guilty to amended charges.
27-year-old Jacob Miller of Lewisport pled guilty to facilitation of commit murder and kidnapping in the death of Tromain Mackell who went missing after a party in Whitesville and whose body was later found in a truckbed tool box in a Grayson County creek.
Under terms of an agreement reached with the Commonwealth, Miller will be sentenced to 16 years in prison on the counts as well witness retaliation and others during a hearing scheduled for February in Daviess Circuit Court.
(Image: Daviess County Detention Center)