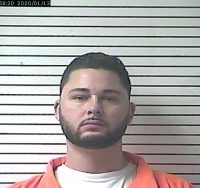 ELIZABETHTOWN (01/12/20) — Police in Elizabethtown have charged a man for allegedly strangling and assaulting a woman while carrying a child.
31-year-old Bradley Williams is facing multiple charges including assault, wanton endangerment, unlawful imprisonment and resisting arrest among others.
Police were called to a location along Hawkins Drive Sunday night where the woman and child were found with injuries and Williams intoxicated and refusing to comply with police commands. The woman said Williams blocked her and the child from leaving a residence and assaulting her.
The female reportedly suffered a broken orbital bone while the child has scrapes to his knees.
Williams was lodged in the Hardin County Detention Center following his arrest.
(Image: Hardin County Detention Center)