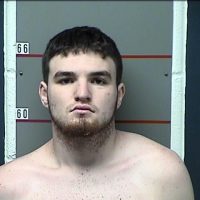 HARTFORD (01/08/20) — The two teens arrested Sunday following a high-speed pursuit through Grayson and Butler Counties are facing charges in Ohio County.
18-year-old Aaron Crowe and a male juvenile are charged with 1st degree robbery for a holdup at a store in Cromwell on Saturday. The Sheriff's Department says Crowe allegedly used a wooden instrument to threaten a clerk at the Cromwell Market. Video surveillance helped identify Crowe.
The pair fled from a Grayson County Sheriff's deputy the next day in a vehicle believed to have been stolen from Hartford on  Saturday. A pursuit reached speeds of 100 miles per hour before the two were taken into custody near Morgantown.  
Crowe was lodged in the Grayson County Detention Center following the arrest, while the male juvenile was taken to a facility in Bowling Green.