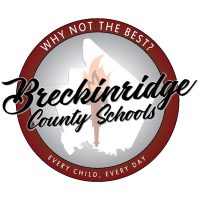 1/8/2020-Tonia Saettel was re-elected Chairman of the Breckinridge County Board of Education at the regular meeting of the Board Wednesday evening.  Vanessa Lucas will serve as Vice-Chair, and Michael Moreland remains as Secretary/Treasurer.  The Board will continue to meet on the second Wednesday of the month at 6:00pm.  In a brief meeting of the Breckinridge County School District Finance Corporation, the same members will serve as officers.
In other business, John Miller updated the Board on the District's transition readiness.  Miller said that next year, there will be 24 career pathways offered at the High School.
The Board also heard an update on the District Guaranteed Energy Savings Project.  Adam Pierce and Andrew Survant said goals of the project are HVAC improvements at BCHS and Custer Elementary; LED lighting district-wide; and installation of solar panels at Hardinsburg and Irvington Elementary.
The Board approved the schematic design for the BCHS renovation project.  Among the renovations are additional stairways in the commons area; increased security in the reception area; restroom upgrades; new roofing; and constructing a baseball/softball complex behind the High School.
The Board approved an offer of assistance of $26,529.00 from the State School Facilities Construction Commission.  The monies are to be used for proposed construction outlined in the approved facility plan.
The Board approved the purchase of five 20 passenger school buses.
The 2020/21 draft budget was approved.
The Board approved the second reading of the 2020/21 school calendar.
An out-of-attendance area request was approved.
Three grant applications were approved.  They are the Crusade for Children Grant; Dollar General Literacy Grant; and the United Way of Central Kentucky Community Investment Grant.
In personnel matters, the retirement of Wanda Lucas/Bus Driver, and Pam Powell, Assistant Cafeteria Manager at IES were noted.
Superintendent Dr. Nick Carter recognized Board members for their years of service.  They are Rick Taylor-three years; Vanessa Lucas-nine years; Joy Campbell-nine years; Mark Biggs-one year; and Tonia Saettel-seven years.
At the beginning of the meeting, students from BCHS and BCMS told of their experiences at the Kentucky Youth Assembly in Louisville in November.  BCMS students are Alexis Pile and Ava Macy.  Their sponsor is Christa Winarski.  BCHS students are Colby Knochel, Ian Brockman, Wesley Horsley, Delana Dowell, Wen Zheng, and Caden Lucas.  Their sponsor is Terri Haycraft.