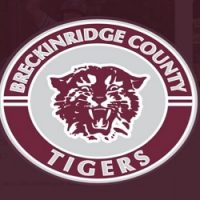 UNDATED (01/07/20) — Both Breckinridge County Fighting Tiger and Lady Tiger basketball teams are in action tonight: the Tigers host Butler County at Tiger Arena with coverage on WXBC beginning around 6:45 tonight. The Lady Tigers are on the road at Owensboro Apollo.
CLOVERPORT (01/07/20) — The Cloverport Aces and Lady Aces also in action tonight in separate locations: The Aces travel to Louisville Walden, while the Lady Aces host Ohio County at the Sportscenter.
ATHENS, Ga. (01/07/20) — UK Basketball also in action tonight in the first SEC road game at Georgia. Coverage on 104.3, the River immediately follows Fighting Tiger basketball. The Wildcats moved up three spots to 14th in the latest AP Poll, one place behind Louisville at 13. Gonzaga remained number one in the rankings. One game involved a Top 25 on Monday night: 17th-ranked West Virginia defeated Oklahoma State, 55-41.
HARNED (01/06/20) — In boys middle school basketball from Monday, Breckinridge County's 7th grade team defeated Daviess County by the score of 36-29.
TUSCALOOSA, Ala. (AP) — Alabama quarterback Tua Tagovailoa says he is entering the NFL draft. Tagovailoa, who had surgery on his right hip in November, announced his decision Monday. He ended two months of speculation regarding the star quarterback's plans as he tries to return from a serious injury. He was projected as a potential No. 1 overall pick before the injury Nov. 16 against Mississippi State.
UNDATED (AP) — A person with direct knowledge of the decision says the Dallas Cowboys and Mike McCarthy have agreed on a deal for the former Green Bay coach to replace Jason Garrett. McCarthy interviewed over the weekend before the Cowboys had announced Garrett wasn't returning. 
CHARLOTTE, N.C. (AP) — T.J. Warren scored 30 of his season-high 36 points in the second half, and the Indiana Pacers beat the Charlotte Hornets 115-104. The Pacers snapped a two-game skid and had lost four of their last five. Domantas Sabonis added 18 points, 12 rebounds and seven assists, and Miles Turner had 15 points and nine rebounds for the Pacers.
UNDATED (01/06/20) — Other NBA scores from Monday: the 76ers topped Oklahoma City, 120-113…Washington 99, Boston 94…Orlando beat Brooklyn, 101-89…Denver over Atlanta, 123-115…Utah 128, New Orleans 126…San Antonio topped Milwaukee, 126-104…Dallas beat Chicago, 118-110 and Sacramento defeated Golden State, 111-98.