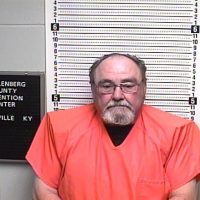 GREENVILLE (12/01/19) — Authorities in Muhlenberg County have arrested a man in connection to the fatal shooting of his son.
Kentucky State Police were called to a residence off Highway 176 late Sunday afternoon where it was determined 70-year-old George Cundiff shot his 42-year-old son Christopher during a domestic altercation.
Christopher Cundiff was taken to Owensboro Regional Health Hospital where was pronounced dead from wounds.
George Cundiff was lodged in the Muhlenberg County Detention Center as an investigation is on-going.
(Image: Muhlenberg County Detention Center)