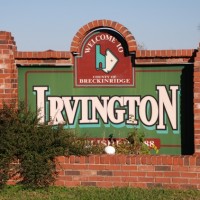 12/2/2019—The Irvington City Council approved a motion to advertise for engineering services for a water system improvement project at their regular meeting Monday evening.  Riley Sumner, with Bluegrass Engineering, presented two plans that would extend water lines along KY 2202 to KY 2781, KY333, Bewleyville Road, and Pleasant Valley.  Sumner said the project would be financed with Community Development Block Grants, Rural Development Grants, and Loans.
In other business, the Council approved the first reading of an ordinance repealing licensing requirements and fees for the sale of alcohol within city limits.
The Council approved the first reading of an ordinance amending the current budget.  The General Fund budget was amended to $681,891, and the Water and Sewer budget was amended to $822,030.
Mayor Yvonne Kennedy said she has had no response to an advertisement to employ a City Attorney.  Kennedy said she would continue the search by placing advertisements in other venues.  The Council discussed whether to hire a City Council Attorney.  No action was taken.
The Council approved a resolution listing all city streets maintained by the city.
The Council approved a one-time Christmas pay increase of $200 for all city employees.
The Council discussed an error in publication of the 2019 personal property tax rate.  The error will mean a loss of $7,249.76 to the city.
Police Chief Brandon Brinkley said flooring is being installed in the new police department building.  Councilman Bruce Basham asked the Council to consider constructing an impound lot.  The Council agreed to explore the requirements for such a lot.
The Fire Department responded to 39 calls in November.  The Council discussed the $5.00 reimbursement offered to each fireman responding to a call.  Council members were not in agreement on the policy, but no official action was taken.