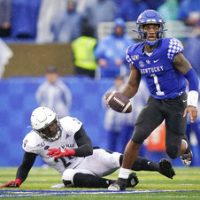 LEXINGTON, Ky. — Lynn Bowden rushed for career highs of 284 yards and four touchdowns to lead Kentucky's school-record 517-yard ground performance that blew out rival Louisville 45-13 on Saturday in the Governor's Cup showdown.
Bowden, whose feet have led Kentucky's 5-2 turnaround since he moved from receiver to quarterback, broke the game open with TD runs of 60 and 46 yards in the third quarter for a 31-13 lead. The junior also had a 32-yard run in the fourth along with a 6-yarder in the second as Kentucky (7-5) surpassed 400 yards rushing for the third consecutive game.
Bowden's yardage total was 15 short of Moe Williams' single-game mark of 299 against South Carolina in September 1995. He was named the winner of the Howard Schnellenberger Trophy as the game's most outstanding player.
Chris Rodriguez added a 64-yard scoring run in the fourth quarter and AJ Rose had a 4-yard TD run in the first as the bowl-bound Wildcats cruised to their third consecutive win and third Governor's Cup win in four years.
Javian Hawkins' rushed 22 times for 142 yards, including a 56-yard TD just before halftime that brought the Cardinals (7-5) within 17-13. Micale Cunningham tossed a 33-yard TD pass to Tutu Atwell on the game's opening possession but it was all Kentucky after that.
-0-
BOWLING GREEN, Ky. (AP) — Gaej Walker rushed for 119 yards and his fourth-quarter touchdown capped a 31-26 win as Western Kentucky rallied past Middle Tennessee on Saturday.
The Hilltoppers (8-4, 6-2 Conference USA) trailed 20-17 entering the final period but wrapped two touchdowns around a Middle Tennessee fumble to claim the win. Ty Storey, who passed for 294 yards and two touchdowns, tossed a 3-yard pass to Quin Jernighan as the Hilltoppers leapt ahead 24-20 with 7:14 left.
Middle Tennessee had the ball for five plays before Damon Lowe recovered a fumble at the 44. Storey fired a 16-yard pass to Jahcour Pearson and also rushed for 16 yards quickly setting up a first-and-goal from the 7. Walker punched in from the 5, extending the WKU lead.
-0-
WEST LAFAYETTE, Ind. (AP) — Peyton Ramsey's 1-yard touchdown run in double-overtime lifted Indiana to a 44-41 win over Purdue to win the Old Oaken Bucket.
The Boilermakers rallied to force overtime with a two-point conversion pass from Aidan O'Connell to Brycen Hopkins that tied the score at 31 with 2:48 left in regulation,
J.D. Dellinger gave Purdue a 41-38 lead with a 34-yard field goal in the second overtime, but Ramsey threw a 14-yard pass to Peyton Hendershot on third-and-10, hurried the Hoosiers to the line of scrimmaged, called his own number and scored from 1 yard out for the Bucket-clinching win.
-0-