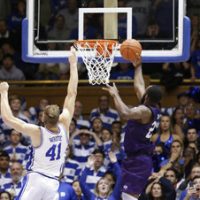 DURHAM, N.C. (AP) — Nathan Bain stole the ball and hit a layup at the overtime buzzer and Stephen F. Austin knocked off No. 1 Duke 85-83 Tuesday night. Kevon Harris scored 26 points and Gavin Kensmil added 15 for the Lumberjacks. They became the first non-Atlantic Coast Conference team to beat Duke at Cameron Indoor Stadium in nearly 20 years.
DALLAS (AP) — Paul George scored 17 of his 26 points in the first quarter, Kawhi Leonard finished with 28 and the Los Angeles Clippers took control early in a meeting of teams with matching five-game winning streaks, beating the Dallas Mavericks 114-99. The Clippers used several defenders to end Luka Doncic's franchise-record streak of four games with at least 30 points and 10 assists.
UNDATED (AP)  — Nikola Jokic had a season-high 20 rebounds and Jerami Grant added a season-best 20 points to lead the Denver Nuggets to a 117-104 win over the Washington Wizards. Will Barton had 17 points, eight rebounds and eight assists, Jamal Murray added 16 points and Mason Plumlee scored 15 for the Nuggets, who have won six straight, improved to 10-1 in November
UNDATED (AP) — Ohio State jumped LSU to No. 1 in the College Football Playoff rankings with two weeks to go before selection Sunday. LSU slipped to two and Clemson remained No. 3 while Georgia held at four. If playoff history holds form, three of those top four teams will reach the semifinals. Alabama remained No. 5 with Utah moving up a spot to No. 6.
NASHVILLE, Tenn. (AP) — The Tennessee Titans have placed five-time Pro Bowl linebacker Cameron Wake on injured reserve after the 37-year-old veteran was hurt late in their win over the Jaguars. Wake signed a three-year contract in March. He had 2 ½ sacks in the opening win over Cleveland, giving him 100 ½ for his career.
PITTSBURGH (AP) — Pittsburgh coach Mike Tomlin says rookie quarterback Devlin Hodges will start on Sunday when the Steelers face Cleveland. Hodges came on in relief of an ineffective Mason Rudolph in a 16-10 victory over Cincinnati, throwing for a 79-yard touchdown to James Washington on his third snap that gave Pittsburgh the lead for good.
KANSAS CITY, Mo. (AP) — The Kansas City Royals have changed hands from David Glass to an ownership group led by John Sherman and that includes actor Eric Stonestreet and local businessmen. The purchase of the Royals for approximately $1 billion was approved unanimously by the owners of the other big league clubs at their meeting last Thursday.